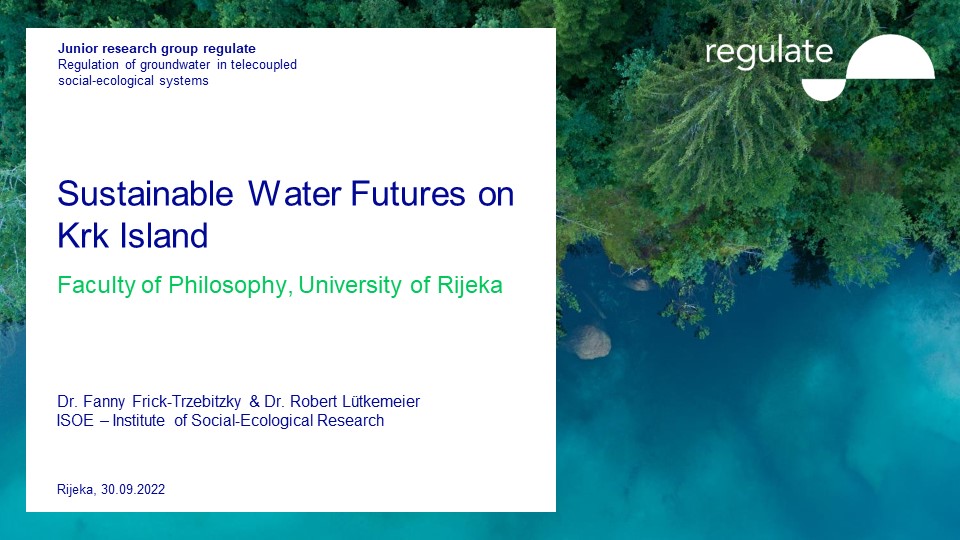 This Friday, September 30th, regulate researchers will conduct the 2nd stakeholder workshop in Rijeka, Croatia. This is part of a larger trandisciplinary research process in this case study. With representatives from water authorities, water suppliers, tourism industry, scientists and public health authorities from Rijeka, Krk and Zagreb, the team develops strategies for a sustainable (ground)water management on the island of Krk.
Against the background of future challenges (e.g. thriving tourism) and uncertainties (e.g. water availability and climate change), that were identified in the first workshop in May, the participants will collectively define desired future scenarios. In a next step, the "backcasting method" is used to discuss what is needed to achieve the desired future scenario. Here, intermediate goals, arising conflicts, key actors and strategies will be identified.
The aim of the "backcasting method" is to increase the resilience to future events and developments by envisioning plausible futures and identifying key steps to achieve a shared goal.
Further information on the case study can be found here.